Review of Collegiate Entrepreneurs, Inc
(Photos below)
The following review is based on my personal experience and the review is in my own words. Since the Collegiate Entrepreneurs web site (www.cepaint.com) only posts positive references, I felt the need to post my review. This experience was in 2006 in Western MA.
Inexperienced College "Kids" at Professional Prices
In short, my one (and LAST!) experience with Collegiate Entrepreneur painters can be summed up as Inexperienced College "Kids" at Professional Prices. I would have been far better off to have hired an individual high school or college student with painting experience.
After finding only one painter to quote the small job I wanted, I learned of Collegiate Entrepreneurs from a newspaper advertisement. I called and the branch manager, Jim (a college student), came to price the job. The job consisted of painting three outside doors (the outside side only) and the small trim that framed them. I also wanted the metal hatchway to be painted inside and out and included the three small metal sleeves that surround the outside of the basement windows.   Prep work would include scraping/sanding the trim framing the doors and sanding the surface rust spots on the hatchway. The original quote was almost as high as the professional painter ... Collegiate Entrepreneurs quoted $700 and the professional painter had quoted $730. Since that was higher than I was budgeted for, I asked Jim what we could do to get the price down.  He agreed to lower the price to $575 (a little higher than my budget of $400-500) by only doing one coat of paint.  I was happy with that solution as I felt the majority of the work would be in the proper pre-paint sanding/scraping and once that and a first coat was complete, I could easily put on a second coat where needed.  I also asked if they could tack down a piece of siding that had popped which I could not reach and he agreed to that. In all my various phone calls and meetings with Jim to discuss the details, pay the deposit, etc. he was polite and professional and I was happy to have given the opportunity to college students who were learning a business.  I asked several times and was assured that the painters were trained and experienced. Everything went fine and professional until painting day.
The night before the scheduled painting I did not get the confirmation call that I was told I would receive.  I called Jim early the day of the scheduled painting to confirm they were coming.  Jim told me they would be there between 8:00-9:00 a.m. and the job would take 2-3 hours.  Jim arrived by 8:30 a.m. with a long ladder and another guy and they quickly fixed the popped siding as promised.  Jim laid out the cans of paint, a couple of brushes, a wire brush and a couple pieces of sandpaper on a bath towel on the sidewalk.  When the two "painters" arrived closer to 9:00 a.m. he walked them around, with me, to show them what needed to be done. I was a little concerned that he was explaining how to do it (e.g. how to scrape and sand and paint) rather than simply what needed to be done.  Jim left and the two painters (Matt and Ryan) stayed on. I asked if they had a drop cloth so when they painted the doors (which open into the house) they wouldn't get any paint on the living room carpet and kitchen linoleum. They said no and asked if I had one. I came up with some plastic that they could use.  Halfway through the job they said they did not have a ladder to reach the pediment over the front door.  I moved my car out of the garage in order to take down the stored ladder for them to use.
Matt and Ryan were always polite and pleasant, but it became obvious to me that Ryan was extremely inexperienced - Matt appeared to have a little more skill.  Half of the paint for the hatchway was spilled on the lawn and they simply dipped their brushes in it to try to save some of the paint – fortunately they stopped before they got dirt or grass on the brushes.  They just left the remaining puddle on the lawn.  When I went out with paper towels to sop it up they politely offered to do that for me.  Having been told they would be done by Noon, I looked out around 1:45 p.m. to see how they were coming along, only to see their car pulling away.  I went out and seeing they had left their few supplies behind, assumed they went to get more paint to finish the hatchway, having run out due to the spill.  I thought since they hadn't mentioned to me they were leaving, that they would be right back. Around 3:00 p.m. they had still not returned and I had to leave for an appointment. When I returned at 4:30 p.m. I saw that they had come, finished the hatchway, and left.  I assumed I would get a call from Jim that night or the next morning since I had not been there to sign the VISA approval or fill out the comment sheet. 
I was very disappointed when I inspected the work. There were places (like the basement window sleeves) that the paint was off the sleeve and on the cement, as well as the window and screen.  The doors and trim were done fairly well but with many minor over/under painting at the window edge and there was some white paint on the stairs, as well as flecks of white paint on the newly painted green sidelights of the door.  The hatchway was the worse.  In addition to the painted lawn, they got paint on the 4x4 bed trim (which I'll have to sand off), some paint on the house siding (which I'm sure I'll be able to remove with mineral spirits) and the entire hatchway staircase is spotted with paint on every step.  I also found some green paint on the hall carpet and fortunately was able to get that off right away.  In addition, there was absolutely no clean-up.  They left the front steps covered with the paint scrapings and sanding residual and there were even some paint scrapings inside on the hall carpet (where the door opens into). 
I never heard back from Jim.  Five days later I received a voice mail from Dan (who had come once with Jim for the contract signing) and he asked to come by to sign off the paperwork.  I was unable to get back to him right away and he left a second message two days later. I returned the call and left a message with him stating that I would love to show him the work that was done and gave him a time to come over.  Upon seeing the work, both Dan and Jim agreed that it was sloppy and substandard and apologized.  Jim came back another day and tried to clean the up the stairs, foundation, and siding. He also touched up some of the painting. The final result is still substandard (e.g. paint brush hairs stuck in the painted door) but is better overall than the way it was originally left.
In summary, I found the lack of proper tools/materials, sloppy painting, and lack of clean-up to be very unprofessional.  I am so glad that I tested the waters with this small job first, where mistakes are less important and easier for me to fix.  I will naturally not consider Collegiate Entrepreneurs for the larger job of painting the entire interior of my house and I do not recommend them. 
A month later:  I found that Jim double charged my account for the balance of $460, once on 08/11/2006 and once on 08/14/2006. Voicemails left for both Dan and Jim went unreturned for a week so I had to have the second charge reversed by my credit card company as an unauthorized charge.
The following photos show only some of the results of their inexperience:
<![if !vml]>
<![endif]><![if !vml]>
<![endif]><![if !vml]>
<![endif]><![if !vml]>
<![endif]><![if !vml]>
<![endif]><![if !vml]>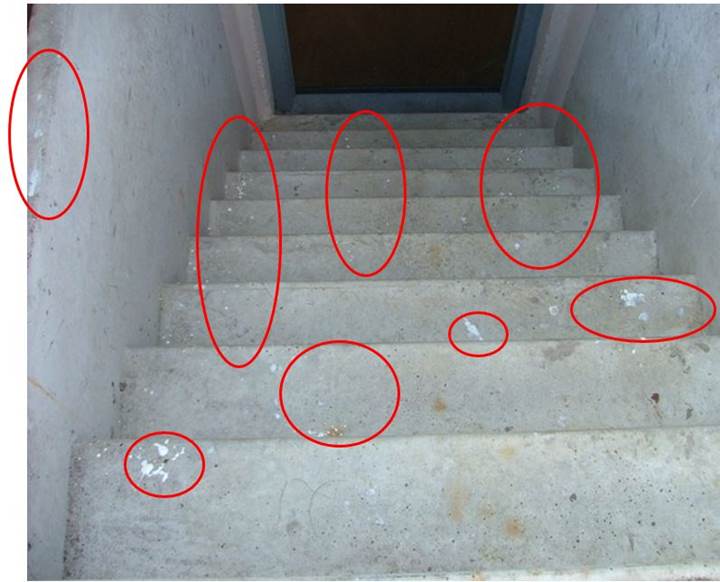 <![endif]>
Shows paint on grass and wood bed trim
<![if !vml]>
<![endif]><![if !vml]>
<![endif]><![if !vml]>
<![endif]><![if !vml]>
<![endif]><![if !vml]>
<![endif]>
Shows paint on basement window screen
<![if !vml]>
<![endif]><![if !vml]>
<![endif]><![if !vml]>
<![endif]><![if !vml]>
<![endif]>
Shows paint on basement window, siding, cement
<![if !vml]>
<![endif]><![if !vml]>
<![endif]><![if !vml]>
<![endif]><![if !vml]>
<![endif]><![if !vml]>
<![endif]><![if !vml]>
<![endif]><![if !vml]>
<![endif]><![if !vml]>
<![endif]><![if !vml]>
<![endif]>
Shows paint on hatchway stairs
There are far too many paint spots to circle them all but I circled these to
show the major spots and color so you could see the rest

Email Me